Canada Day and Long weekend hours
It is Canada Day tomorrow. Although things may look a little bit different this year we wanted to let you know that we will be open Wednesday (July 1; 4 PM-7 PM) in Downtown Courtenay(City of Courtenay, Downtown Courtenay Summer Street Markets), Saturday (July 4; 9 AM- 1 PM) at the CV Exhibition Grounds (Comox Valley Regional District) and on Sunday (July 5; 10 AM- 1 PM) in Cumberland Village Square (Cumberland Recreation). Come on down and pick up some fresh local goodness!

COVID-19 Update 
As you know we are currently in a state of constant change related to COVID-19.  We appreciate your patience as we navigate through all this change.  First and foremost, we want you to know that everyone's safety is top of mind.
On March 26, 2020 the Province, in consultation with Dr. Bonnie Henry, B.C.'s provincial health officer, has defined essential services British Columbians rely on in their daily lives in the context of COVID-19 response and recovery. This list includes "retail: grocery stores, convenience stores, farmers markets and other establishments engaged in the retail sale or provision of food".
We will continue to work with authorities as well as with other stakeholders to ensure that we are providing you with a variety of physical and virtual options that will allow you to continue to access fresh, local and nutritionally dense food while maintaining the highest level of safety.
It is important to note that although we are known as an event with live music, entertainment, picnic tables, huge crowds and 70 plus vendors we have made some significant changes to make the market simply a grocery store. These changes include moving outside to the CV Exhibition Grounds, no live music or entertainment, no seating areas, no concession vendors and no dogs to name a few.  Check out the video showing our market during COVID-19.
 Here are some links to help you stay informed:
*BC CDC and Farmers' Markets: 
http://www.bccdc.ca/health-info/diseases-conditions/covid-19/community-settings/farmers-markets
 *Farmers' Markets as an essential service: 
https://news.gov.bc.ca/releases/2020PSSG0020-000568?fbclid=IwAR2pzL5XQixBelAKILZoKq6ivaeSL3f1Q9P1XWFvWliDQ1v5v6mylOC2O1U
 *Vancouver Island Health Authority: 
 https://www.islandhealth.ca/learn-about-health/covid-19?fbclid=IwAR1t9y8NHeiLXGMmJsdevIR2uS2iHXaideXqpfZ6Alin4MlpAZHf51HnNwc
 For more information including details of the precautions now in effect click here. 
Welcome to our new Online Farmers' Market. 
This online platform is meant to compliment our "on the ground" farmers market, not replace it.
During COVID-19 our online market is especially important to keep the residents of the Comox Valley and beyond supplied with fresh, local and nutritionally dense food.  Although our store is operational, we are still working with vendors to make sure all your favorite products are available.
Please be patient as we bring our vendors and their products on board and work out some kinks such as delivery locations and dates.  As we make changes, we will keep you updated.  If the product you are looking for is not available in the Online Store contact the vendor directly to make other arrangements.  Vendor contact information is located HERE.  Happy Shopping!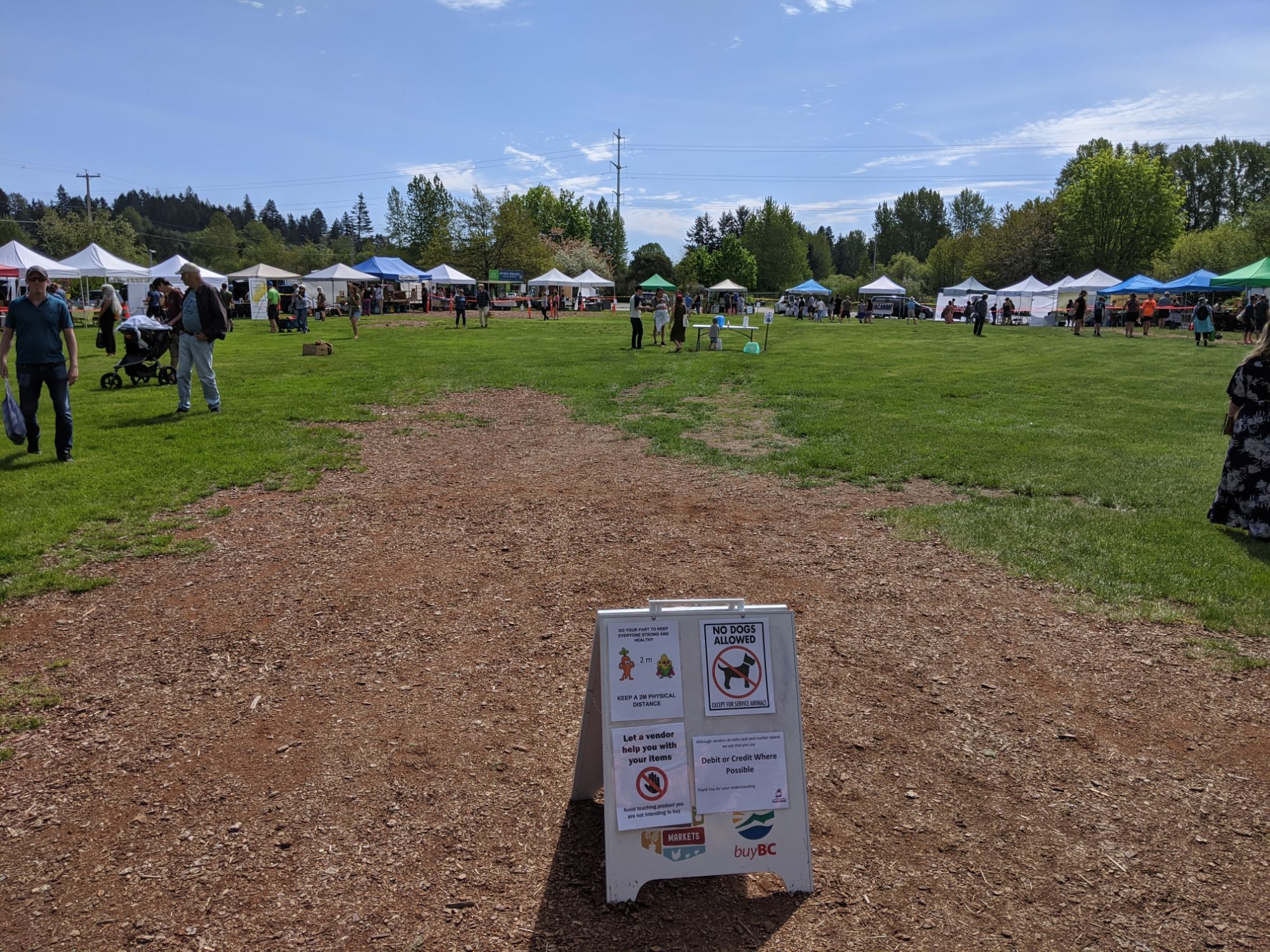 We have a variety of markets throughout the year in different locations in Courtenay and Cumberland including a year-round Saturday market and seasonal summer markets.  Each of these markets offers customers an unique experience.
Looking for a vendor? Want to donate to our New Farmer Bursary Fund? Need a bag? Need Market Tokens?  Lost something? Have a suggestion? Please let us know. The Market staff and volunteers can help you; they are located at the market tent which is located near the musician stage.
 Vendor Location Maps
Want to know where your favourite vendor is located?  Check out our location maps below.  You can click on the vendor location dot and find out more information about that specific vendor.  Note that these maps are linked to another program that is used to create the vendor location information and is automatically updated to the website at various times though the process and as a result you may not be viewing the map the represents the vendors that will actually be at the market.  The final map will be active by 5 pm the night before the market so you will have time to plan out your market day.  Happy Shopping! 
Saturday Markets
This is our biggest and longest running market.  In the peak of the summer season we can have seventy plus vendors.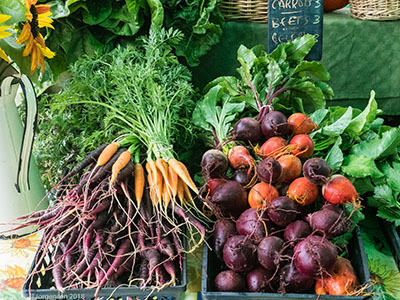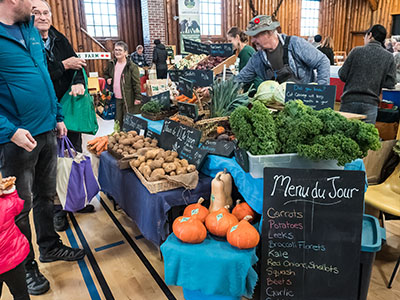 Fall Market
9 AM- 1 PM October 17, 2020 to December 19, 2020; Native Sons Hall – 360 Cliffe Avenue, Courtenay
Note: We take two weeks off during the Holiday Season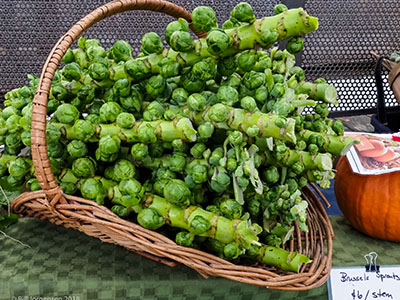 Wednesday  Market
(Downtown Courtenay)
4 PM -7 PM June 17, 2020 to September 2, 2020
England Avenue (between 4th and 5th Street)
Our mid-week market was started in 1997 to give farmers another venue to sell their crops that needed to be harvested during the week.  This market has changed location and hours several times since it started but is currently located in Downtown Courtenay.  This year we are partnering with the Comox Valley Arts Council and the Downtown Courtenay Business Improvement Association to run the Downtown Courtenay Summer Street Market.
Sunday  Market
(Cumberland)
10 AM – 1 PM June 21, 2020 to September 13, 2020
Village Square Cumberland
Our newest market started in 2016 in a green space right on the main street in a green space between the Cumberland Village Bakery and the Wandering Moose Café on Dunsmuir Avenue. There are approximately eleven to fifteen weekly vendors with great variety of veggies and fruit, meat, pies, hemp snacks and hempscream, healthy body products, mushrooms, wine and so much more.
It is Canada Day today! Although things may look a little bit different this year we wanted to let you know that we will be open Wednesday (July 1; 4...

We are hiring for a part time Market Coordinator for our summer seasonal markets! The Comox Valley Farmers' Market Association has been bringing f...

Last week's edition of the Comox Valley Record featured a wrap-around supplement highlighting the Farmers' Market. In this addition to the weekly pa...

COVID-19 Update_ March 19, 2020 As you know we are currently in a state of constant change related to COVID-19. We appreciate your patience ...

COVID-19 Update The health and safety of our vendors, staff, customers and community is top priority. We are working with the local health author...

A delicious way to spend your Saturday Your taste buds will be watering as the smell of the delicious culinary creations wafts through the air at ...