The Comox Valley Farmers' Market Association was born early in 1992 when a group of local growers saw the need for a gathering place for farmers to sell directly to the consumer. The association was founded by Dick McGinnis (President), Gail Beaucage (Treasurer), and Dave Bernard (Secretary). With support from regional district director Harold Macy, and guidance from district agriculturalist Gary Rolston, a produce guide was created, and stakes were pegged at the site we still call home for what everyone hoped for – a successful weekly farmers market.
On opening day – May 2, 1992 – a dozen of vendors, some with tables, others just using their truck tailgates, set up to sell their wares. It only took a few weeks to realize that we needed more vendors and diversity to make the market more viable and bakers and fishers were added to the mix.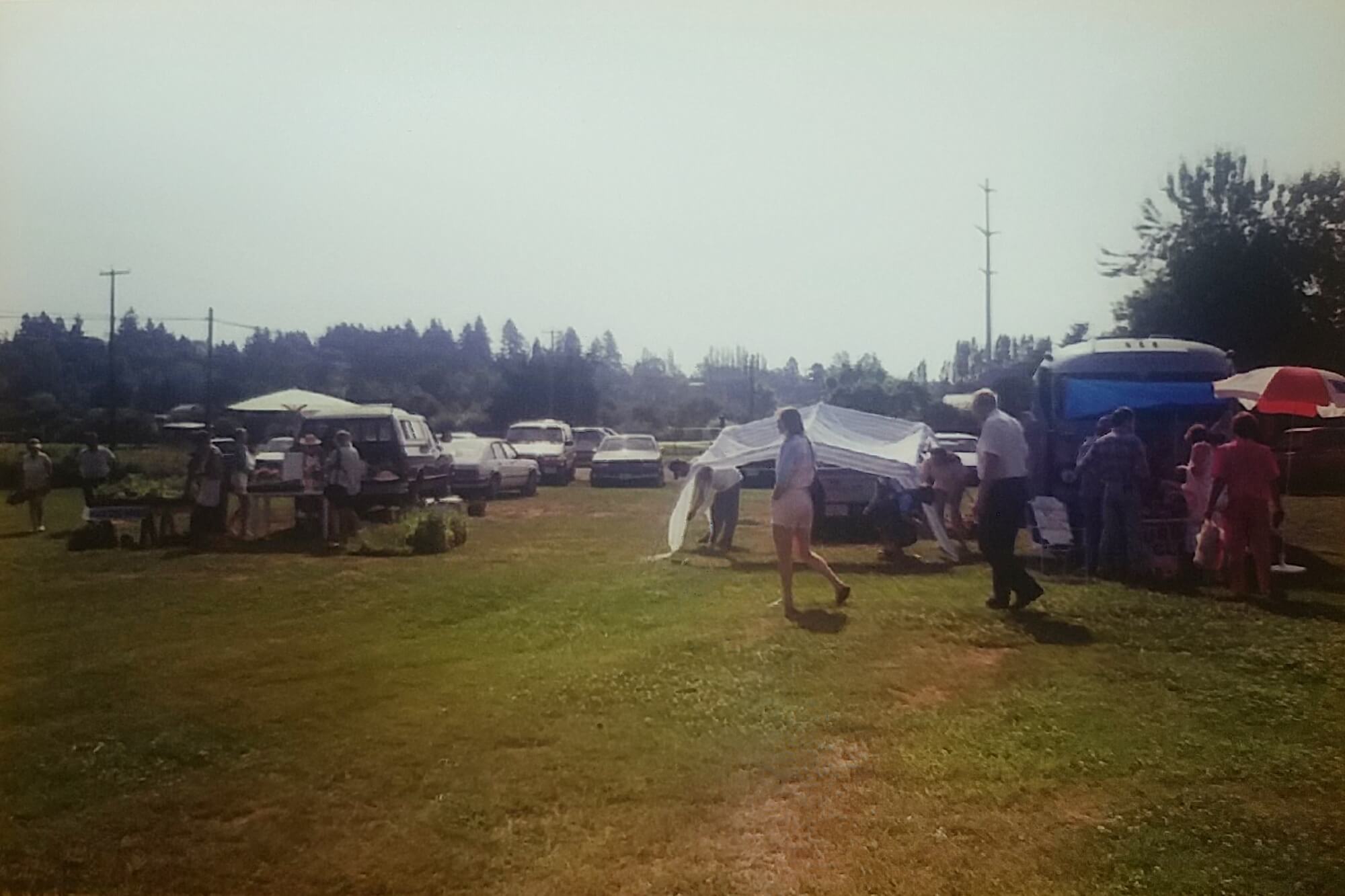 There was a lot of camaraderie among the vendors in those early days. There was only one ring of booths, and all the vendors could see each other. "There was so much space to fill and so much space between us, we had to shout at each other to speak," remembers founding vendor Joan Lightfoot. On the last day of our first season it was so cold, wet, and windy that the few hardy vendors huddled in Sourdough Glen's bus, almost hoping that no customers would come to force us out into the elements.
Growth was slow in the first two years with the average number of vendors per week between 15 and 16, but we had a wide variety of product and some interesting characters selling in the early days. Loyal market goers will remember Sourdough Glen warming up his flat bread on a barbecue outside his bus, Shauna selling her fine baking which she displayed in the front trunk of her VW Beetle, Mike and Nina's wild boar products, Carol's rabbits (both frozen and live), Julie's Icelandic bread, Lang with his salad greens, Colleen and Anne's beautiful bouquets of fresh and dried flowers; and that isn't mentioning the handful of producers who have been selling at the market continuously since the first couple of years.
In 1993 we wanted a logo that would identify us at a glance. The market man, created by the late Lowell Mackay, still appears on our promotional material today. Our slogan "Come for the Freshness, Stay for the fun" was added a few years later.
By 1994 we realized we needed to shake things up a bit to attract more people to the market. The season started off with entertainment by the Old Time Fiddlers and over 30 vendors. It was then that Lightfoot and the other vendors "knew that we were doing something right." Our promotion of the market as a place to come for fresh, quality product as well as a gathering place for the community paid off with increased customers. We had become a regular stop for local people on the hunt for the bounty of the Valley.
The market has become not only a place to buy fresh, local food, but also a showcase for the talented musicians who live in the Comox Valley. Our mobile stage was built in 1998 and a sound system is powered by a quiet generator. We have become the place for community to gather.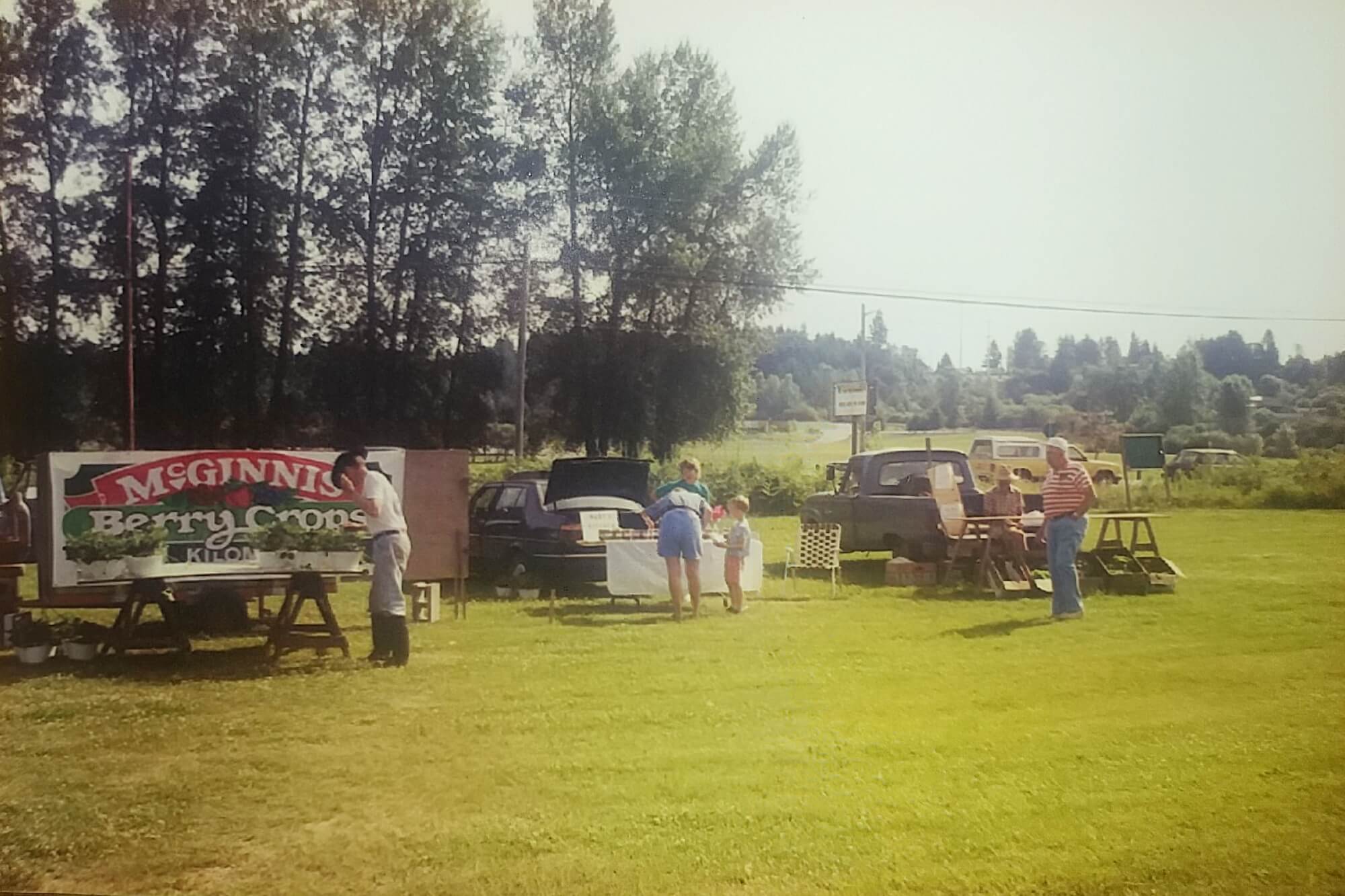 Many summer crops need harvesting more than once a week. In 1997 a midweek market was established with the co-operation of the City of Courtenay and the Downtown Merchants. The parking lot at the corner of Duncan and Fourth was chosen and we had a successful Wednesday-morning market at that location for many years. Due to increased demand for the parking spaces downtown, the city offered Simm's Park for our midweek market. Attendance at the Wednesday market started to dwindle and the association decided to get a fresh start by moving the Wednesday market to the field beside the Komox Band Hall on Comox Road and to move the time to the afternoon between 3:00 and 6:00.
Our first Christmas market was held at the Native Sons' Hall in 1998 and this once-a-year market led to the winter market being established in 2001. The Native Sons' Hall became our home on Saturday mornings from mid-October until the week before Christmas. Our season was extended to a year-round market in the 2008-2009 season. Many farmers have managed to extend their growing season to accommodate the year-long market.
The BC Association of Farmers' Markets (BCAFM) recognizes outstanding farmers' markets that are exemplary in adding value to their communities and connecting producers to consumers through fresh, locally grown food, and artisan products. The market is a venue that promotes, supports and advocates for small farms, local, sustainable agriculture, artisans and programs that link consumers of all economic levels in their community with fresh, local food.  In 2015 we were honored to be nominated and win the BC Farmers' Market of the Year 2014.
In 2016 to address the need from both farmers and customers and to improve access to fresh, locally grown/produced, a market was started in the Village of Cumberland.  Although it is our smallest market with 10-15 vendors weekly, is has been a great success as it has brought a key component of food security to the Village of Cumberland where there are no other formal support services for Cumberland families.